I can't believe I still got up at 4 am since I watched the whole game last night.
It was the most intense thing I've ever seen. It was a miracle comeback…
You see, my wife and I played Monopoly last night and I finally claimed Boardwalk and Park Place…
Zing!
OK, moving on with what really happened…
Now unless you were a rebel and didn't watch last night's Super Bowl, Atlanta was ahead 28-3. It was pretty much in the bag that they were going to win.
Long story short, New England came back and tied it up, 28-28.
They went into overtime and the Patriots won it 34-28.
I know what you might be thinking…
1) What's this text from your wife about?
2) I could have gotten this info from SportsCenter, Mikey. What does this have to do with me?
First, the text. My wife nailed it. See the photo below and note the time she sent it to me (12:47 pm yesterday):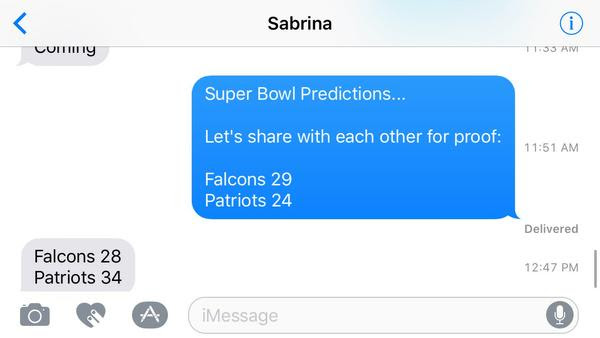 Voodoo woman, huh? Impressive.
Look, this big comeback got me thinking…
What if we treated our health like this? You know – maybe you've been struggling since the start of the new year and discovered it's much harder than you anticipated to lose weight.
Cravings are out of control. Your will to exercise is diminishing. You're perhaps falling short on your goals.
Around this time of year, people start giving up because quite frankly, it just gets too hard.
But much like New England, maybe it's time to have a self-check. Maybe your time isn't over quite yet. Maybe… just maybe… you're on the verge of a great comeback yourself after realizing what you're capable of.
Perhaps now that football season is over, YOUR season is just starting?
Something to think about, right?
Before I go, here's a Super Bowl Meltdown workout (because if you're like me, you ate a little too much yesterday)…
Super Bowl Meltdown Workout
Do the following circuit as shown twice. After the second circuit, rest 1 minute and move into the finisher.
1A) Goblet Squat (20 secs), rest 10 secs – do this 6 times
1B) 2-Arm DB Row (20 secs), rest 10 secs – do this 4 times
1C) Decline Push-ups (20 secs), rest 10 secs – do this 4 times
1D) KB or DB Swings (20 secs), rest 10 secs – 6 times
Finisher Ladder:
Do the following superset, resting only when needed. In the first superset, you'll do 8 reps of each exercise. In the next superset, you'll do 7 reps of each exercise. Continue in this fashion until you complete 1 rep of each exercise.
2A) Lunge Jumps (8/side…1/side)
2B) Renegade Row (8/side…1/side)
Beginner Version:
Do the circuit ONLY once, then rest 2 minutes before going into the finisher.
1A) Lying Hip Extension (20 secs), rest 10 secs – do this 4 times
1B) 2-Arm DB Row (20 secs), rest 10 secs – do this 4 times
1C) Incline or Kneeling Push-ups (20 secs), rest 10 secs – do this 4 times
1D) KB or DB Swings (20 secs), rest 10 secs – 4 times
Finisher Ladder (start at 5 instead of 8)
2A) Bodyweight Step-ups (5/side…1/side)
2B) Bird Dog (5/side…1/side)
Burn it,
Mikey Whitfield, Master CTT